Attention all health informatics enthusiasts! Prof emeritus David Ingram has written a book on the history of computing in healthcare called 'Health Care in the Information Society', and needs our help to bring it to the masses.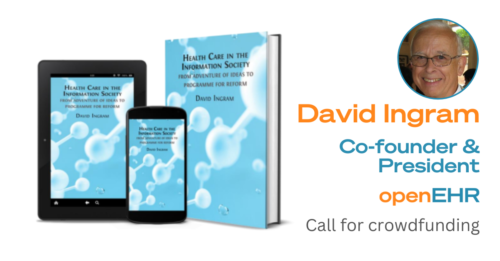 David is a founding member of openEHR [1], who has played a significant role in the development of health informatics education and research in the UK. He has spent three years compiling this fascinating look at the development of computer science and information technology in the healthcare industry. His book not only provides a personal perspective on the past 75 years of the Information Age but also offers an optimistic and forward-looking view of what's to come, and promises to be a valuable resource for anyone interested in the history and philosophy of science as well as those working in health informatics today.
The book draws together the history of people, ideas, and events, from times before the computer and connecting with the foundations and development of computer science and information technology. It surveys the often-anarchic transition of life science, medicine, and health care into the past seventy-five years of the Information Age – an era that David's life and career have exactly mapped against. It provides an overarching view and clarity on our applied domain which for many of us is defined by its grand challenges and seeming intractability.
To make this book accessible to as many people as possible, David has chosen to go the open access route through OpenBookPublishers (OBP) in Cambridge. While this means the book will be free to download, David will need to cover the OBP costs himself. As an open-access author, he neither receives nor seeks remuneration for his work.
David is seeking support for the publication of what is sure to be a definitive work on computing in medicine.
Help David bring Health Care in the Information Society to the widest possible audience and ensure that his contributions to the field of health informatics continue to be recognised and celebrated by contributing to the crowdfunding campaign [2].
[1] https://openehr.org
[2] https://cdn.openbookpublishers.com/HCIS_DP_7483e770ea.pdf